At the start of this year, after extensive preparation, work began on modernising/restoring the St Michael's Church in Koudekerke. The history of this church, which belongs to the Protestant Church Netherlands, goes back to the 12th century. Like so many churches on Walcheren, it was severely damaged during the siege of Middelburg (1572-1574) in the Eighty Years' War. And in 1650, the Gothic church was even demolished completely to be replaced by a hall church.
During the current restoration, seven 17th century tombstones were surprisingly revealed during the removal of the floor. Given the historical importance of these tombstones, they will be restored as well as they can and incorporated into the new floor to be laid. The Cultural Heritage Foundation oversees this, and thankfully so.
During a renovation in 1952 the oldest remaining tombstone of Neeltje Symbens, widow of Willem Gillise Bogaert, who died in 1603, was smoothed out. Because that's how they did it in the fifties of the last century …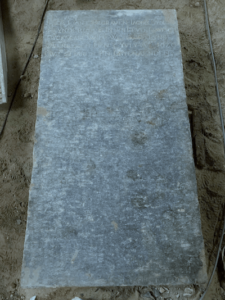 Of the seven stones, two are in good condition, three in fairly good condition (one broken), and two in poor condition. All stones will be cleaned and repaired as much as possible before being placed back into the new floor. One of the stones is so large and heavy that the cleaning will take place on site in the church, the other stones have already been removed.
The Hurgronje Family Fund has made a financial contribution to the restoration and reinstatement of the gravestones.