The Uncle Beach in Vlissingen is the heart of the commemoration of our liberation. The small beach near the Oranjemolen was given this code name by our liberators, who with great courage and under harsh conditions and heavy shelling crossed over from Breskens on November 1, 1944. Two days later, after conquering the headquarters (former hotel Britannia), the occupying forces surrendered. A monument was erected in 1952 to commemorate the 69 people who died during this liberation.
There are 4 flagpoles erected at the monument on Uncle Beach, for Canada, Great Britain, France and the Netherlands. On December 22nd 1980 the so called flag instructions have been established. These instructions prescribe that a flag must not be left hanging outside in the dark, out of respect for the flag. However, it is permitted to fly the flag at night if it is illuminated from two sides. The Stichting Oorlogsjaren in Vlissingen has taken the initiative to place permanent floodlights near the four masts, so that the flags can remain hanging day and night.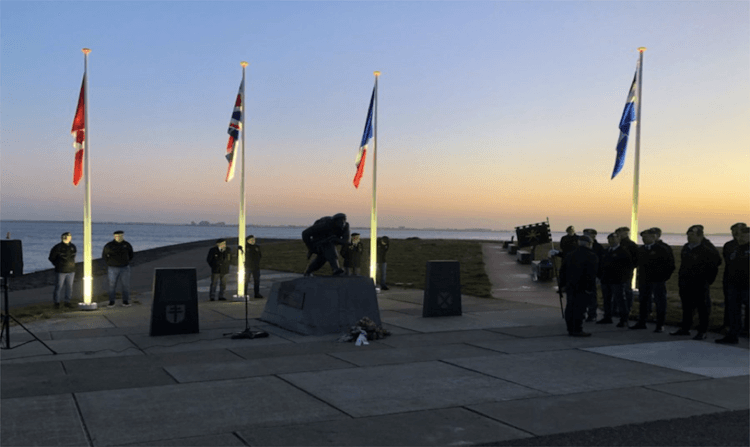 On February 25, 2022, the floodlights were unveiled during a short ceremony. A short video impression (4:21) can be seen on Youtube.
Because of the family ties that the Family Fund Hurgronje has with both Canada and England, the Administrators have decided to sponsor the illuminations of the Canadian and English flags.