Dutch painter Roel van der Linden, who lives and works in Prague, was, like most of us, more than fed up with the Covid measures. So when it was once again allowed, he came up with a grand project to meet and connect people: create the longest painting ever.
Visual artist and team member of ruimteCAESUUR Hans Overvliet came up with a specific form: paint together with hundreds of school children from Zeeland, 12 artists and many helping hands their contribution to the longest painting.
The children were found at 8 schools in Zeeland. The canvas, over 125 metres long and 1.6 metres high, was painted with great passion by the children. It was a mixture of Dutch and foreign children; refugees from many countries around us. It was a great activity to give creativity free rein.
Meanwhile, the painting is in the Czech Republic where it will be continued. Slowly but surely, the canvas will grow and perhaps in the future it will surpass the 400 metres (the current record in the Guinness Book of Records). But that is not the most important thing. "My ultimate goal is to inspire others. The length of the canvas is not the most important thing. Painting together in freedom and creating a beautiful work of art, that's what matters to me." So says Roel van der Linden.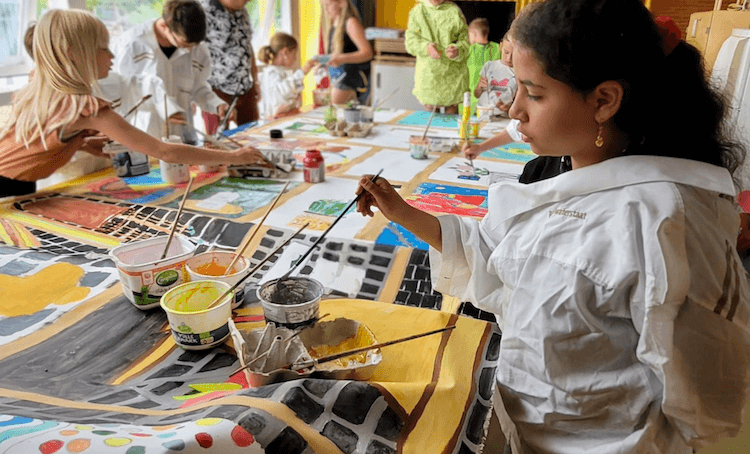 Click here for more information, personal impressions of the collaborating artists and lots of photos and here for a short video.
This project was made possible by a financial contribution from the Hurgronje Family Fund.